POOR CHEVY NEEDS YOU!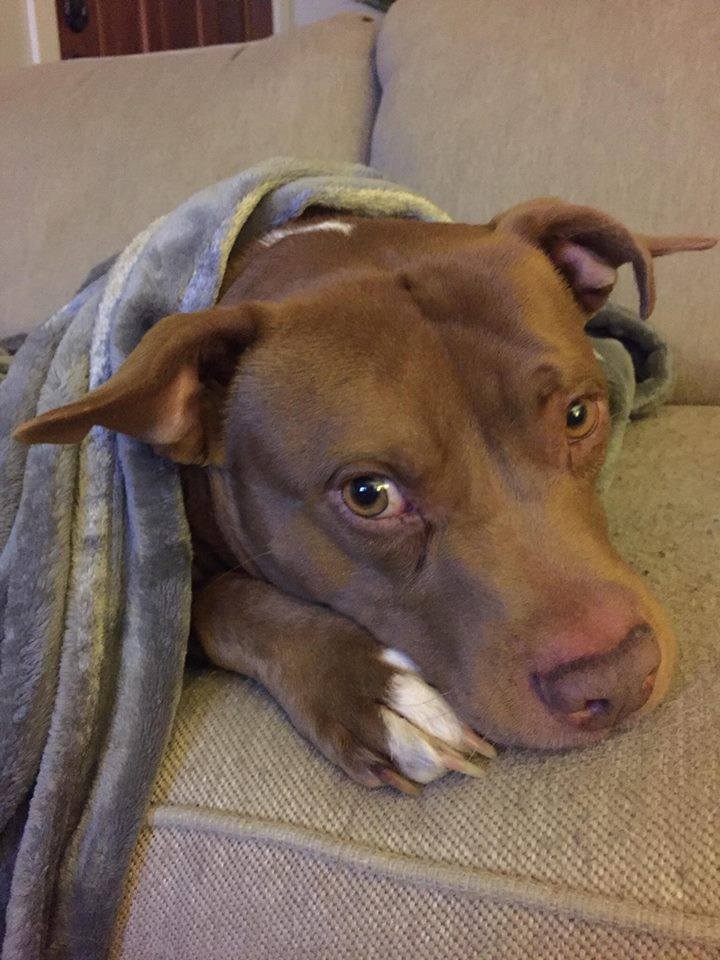 Like so many of our rescue dogs, Chevy has a very sad history: he was found in a run-down, abandoned home. When he was discovered, Chevy was starved – he was just skin and bones – and filthy. He was also heartworm positive.
Because his heartworm was so advanced, he had to spend a great deal of recovering. This did not give him a chance to learn to socialize with other dogs, and he simply has not been able to acclimate to the other dogs in his current foster home. His fosters are also caring for other dogs with serious medical issues; now that Chevy has recovered, we've decided that it would be best for everyone if he were moved to a foster home that has no other animals.  He would be perfectly happy with a family or a single person of his own to care for and to snuggle with for the rest of his days.
Chevy is a 3-year-old neutered male pit bull mix. His current foster family says he's very playful and smart; he listens well, and learns commands easily. Chevy loves to play with his toys, but he's just as happy to snuggle on the couch with his people. In fact, he loves to snuggle more than almost anything (well, duh…he's a pibble). Chevy loves children. His heartworm treatment is complete, and he recently received his one-year post-treatment checkup. He must be the only pet in the home…he's absolutely perfect in every way as long as he's the only animal in the household.
Can you help Chevy find his forever home or a good foster home where he can get the love and attention he deserves while he's waiting? Chevy needs a new place as soon as possible so his fosters can help the other doggies in their household get the care they need; this will ensure the best possible outcome for those dogs (and for Chevy, too). Please visit our Facebook page and send us a direct message if you can help!